Sectors
Water, Sanitation & Urban
A Place to Call Home: Modern Housing Across Rural Uzbekistan
The family home plays a central role in life in Uzbekistan. It is a place for celebrations, for hosting friends, and where several generations live together under one roof. But many houses in rural areas are of poor quality when compared to those in cities. Since independence from the Soviet Union in 1991, the pace of building houses in rural areas has failed to match the rate of population growth, with only 60,000 houses coming onto the market each year. Together with limited employment opportunities, this has caused many people to relocate to urban areas in search of work and a suitable place to live.
Recognizing this, in 2009 the Government of Uzbekistan launched the Housing for Integrated Rural Development (HIRD) programme, which aimed to build 93,000 high-quality rural houses, along with infrastructure such as schools and sports facilities.
In 2014, the Islamic Development Bank (IsDB) agreed to help finance the ambitious programme. Following this, thousands of houses have been built in rural areas near the cities of Fergana, Samarkand and Tashkent – and many people are now enjoying the benefits of their modern homes.
Creating incentives to remain in rural areas
In the past, the Government of Uzbekistan allocated families land to build houses. However, people often lacked the resources to complete the work, or switched to cheaper, lower-quality materials. Many rural houses were built from mud bricks rather than ceramic bricks, but these often only lasted for around 30 years, meaning each generation had to rebuild the family home. Further problems included a lack of connections to gas, electricity and drinking water, and the low standard of access roads.
The HIRD programme introduced a new approach. The overarching objective was to provide modern, well-designed houses that were attractive to buyers, soundly constructed and fully connected to utilities. It also aimed to reverse rural–urban migration, especially among young people and skilled workers (such as health and education professionals), as well as support small and medium-sized businesses in the construction industry.
After a publicity campaign involving TV, radio, print media and community meetings, the HIRD programme was launched in 2009 and continued until 2016, at a total cost of US$3,691 million. IsDB contributed US$100 million (although only US$95 million of this was needed); additional funds came from the Asian Development Bank (US$500 million), the Saudi Fund for Development (US$60 million) and the Government of Uzbekistan (US$3,036 million). In total, 65,900 houses were built.
IsDB's contribution supported Phase 3 of the HIRD programme (2015–2016). This cost US$101.77 million in total, with US$6.77 million provided by the Government of Uzbekistan and Uzbek banks. In this phase, 4,577 houses were built near Fergana, Samarkand and Tashkent, of which 1,415 were financed by IsDB.
The government established Qishloq Qurilish Invest (QQI) to manage the programme.
A focus on families in need
The houses are located in small settlements, or 'massivs', which contain schools, sports centres and shops, as well as a mix of three, four and five bedroom houses. To help those most in need, the Government introduced favourable terms:
House prices start at around UZS170 million (approximately US$47,350) for a three-room house on 600 m2 of land, which is affordable for most people in the area.
Down payments are typically between US$5,000 and US$8,000, with the balance paid over 15 years.
Following a review of the early phases, the project introduced three-room houses built on smaller plots (200 m2), which sell for UZS100 million (US$27,855
Government support meant that construction companies involved in the project were tax-exempt, while materials were subsidized. Imported materials were also free from custom duties. Further to this, low-income families became exempt from income tax, and the government paid to connect electricity, water and gas to each house.
Building in the right place
With such favourable conditions, demand for the homes were understandably high. To ensure that the project reached those most in need, community-level committees decided who should benefit, with young people and low-income professions (e.g. social workers, farmers, teachers, health workers) favoured. Applicants were assessed according to social criteria (e.g. family size, existing housing) and their ability to repay the loan (e.g. income, credit history).
The size and location of each massiv is largely determined by demand. People interested in buying a house submit a request, and data is collated at the regional level. The district mayoral office identifies the areas of greatest need and submits plans to the central government, which then decides on the number and location of projects. The mix of house sizes in each massiv is also matched to demand.
Space for young and old
Uzbek families are traditionally large, with several generations living in one house. Many house buyers in the project are young couples, but one set of parents often moves in with them. This helps the new massivs to maintain social structures, and avoids a generational divide between the new and old locations. For example, one citizen, Dadajonov Fazoljon, lives with his family in Beshkurgan massiv. This ranges from his 80-year-old mother to his one-year-old grandson."My mother needs a heated place, an indoor shower," he explains. "We have constant hot water here; it's very convenient."
His son Dadajonov Fakhriddin is a doctor and his daughter-in-law Mumindjonova Aydinkhan is a teacher. The expanded bus network that now serves the massiv makes it easy for them to get to work, enabling them to remain living in a rural area while pursuing their careers.
Modern facilities
 The improvement in facilities was a major factor in another citizen's decision to move to the Nayman massiv, near Samarkand, two years ago. Sayora Muminova's said: "Here, my family has reliable gas, water and electricity, which all used to cut out in our old village and everything is inside here – toilets, bathrooms. In our old house, they were outside; it was very cold in winter. The road infrastructure is better, too."
Ever-growing demand
Demand for the new houses continues to grow as more people learn about the programme. Sohiba Rahimova and her husband moved to Surum massiv, near Tashkent, after hearing about it from her parents."When we were looking for a new house after marrying, they suggested this massiv and we liked it [...], conditions are good and the houses are very attractive. My younger brother will also buy a house here, once he is married."
High-quality construction
While traditional mud-brick houses often needed rebuilding by every generation, the modern houses are designed to last for 200 years, providing a sound investment for families. "We used to live in a village close by, in an old-fashioned house," says Abdullajon Nazarov, a retired food trader who now lives in the Beshkurgan massiv near Fergana. His family were very keen to move, largely due to the better quality of the new homes. Six other families from their village moved at the same time, keeping social ties intact.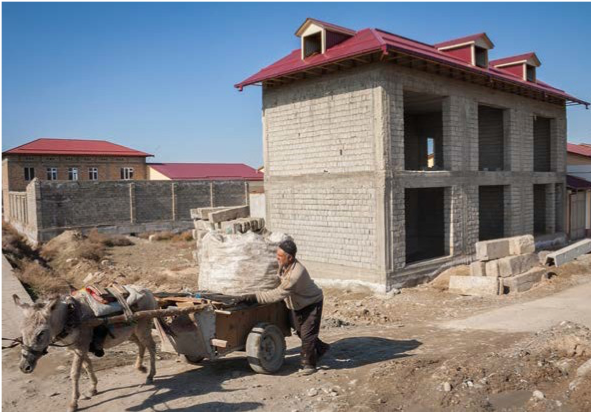 Building the rural economy
Around 64 per cent of Uzbekistan's population is rural,1 but migration to urban areas has increased in recent years, while many people have left Uzbekistan completely to look for work. Better housing alone will not be sufficient to reverse these trends; people in rural areas also need good jobs.
To address this, the HIRD programme stimulated employment in the labour-intensive construction sector. While the exact figures are hard to measure due to the temporary nature of some contracts, estimates from QQI put the number of direct and indirect jobs created by the project at 75,000 – almost all in rural areas. There were further spill-over benefits for companies making doors, windows and other key building supplies. Where possible, each project purchased materials locally to increase the economic benefits in the region. 
For example, Akmal Achilov is the Director of Kobil Mirza. His company was responsible for building 30 houses in Kamolot massiv, near Samarkand. "It has helped my business," he said. "We have employed 40 people full time [since the project started], and this reached up to 120 during peak building seasons [April–October]. We have also invested in equipment such as cranes and large trucks."
He also outlined further positive impacts. "My staff have learnt new skills," he stated. "If you look at all of the companies working here, they have built up their resources through these projects."
A future with strong foundations
The HIRD programme has been an overwhelming success. By the end of 2016, rural people, young and old, had realized their dreams of owning a modern house. Encouragingly, there are already signs that rural–urban migration is reducing; out-migration is slowing down, and some people are even looking to leave the cities and live in rural areas.
Such is the popularity of the modern houses that demand continues to grow exponentially, and in 2017 IsDB agreed to provide a further US$300 million for the next phase of the programme. The Government intends to build 15,000 new homes each year from 2017 onwards and will concentrate on benefitting lower-income people through smaller, lower-cost houses. There will be a focus on reaching remote regions, and the government is looking to link future phases with employment programmes beyond construction, for example working with foreign companies to create jobs.
These ambitions will grow as the project continues, but the blueprints are in place for this national transformation in rural housebuilding to continue. 
Success factors
An efficient process: Building houses with one design is cost-effective and helps to develop the skills of contractors. Government support, such as tax exemptions, and larger economies of scale for importing materials make the scheme economically efficient.
Strong project management: QQI, the Project Implementation Unit, is staffed by a combination of experienced coordinators and young employees who bring fresh ideas and impetus.
Rural economy benefits: Housebuilding stimulates local economic growth by creating jobs and supporting businesses. This has a circular effect, as stronger rural economies mean more people can afford to buy new houses.
High-quality construction: The procedures applied by construction companies, and the skills they developed, have raised the overall standard of rural housebuilding. The new houses are of better quality than many in urban areas, which gives people an incentive to stay.
A variety of options: Providing a mix of three, four and five room houses met the population's diverse needs. In future phases, four designs will be used to meet requests for more variety.
Sustainability: The model that has been established by the Government of Uzbekistan, IsDB and the Asian Development Bank will ensure the programme's continued impact. Continuous reform of the programme, and strong engagement between all partners, will contribute to the overall sustainability of the rural housebuilding sector.