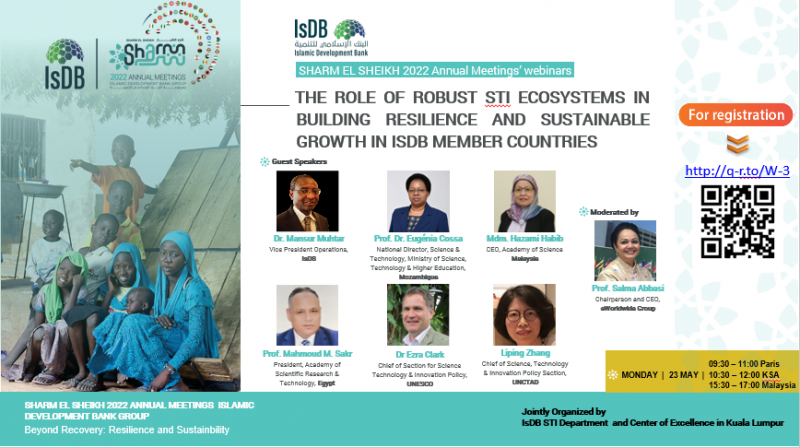 The Role of Robust STI Ecosystems in Building Economic Resilience and Sustainable Growth in IsDB Member Countries
Webinar (10:30 – 12:00 KSA Time)
We are delighted to invite you to the Webinar on The Role of Robust STI Ecosystems in Building Economic Resilience and Sustainable Growth in IsDB Member Countries, the third of  the IsDB Group Annual Meeting webinar series.
Building strong STI ecosystem is an imperative to building resilient and sustainable economies. In the wake of COVID-19 global crisis, it is of utmost importance for IsDB MCs to build adequate STI ecosystems that provide a foundation for the countries' preparedness for future crises, promote competitiveness and inclusive growth.
The Webinar will feature unique blend of diverse MCs experiences in adapting and leveraging STI ecosystem to support resilience and recovery including Egypt's, Malaysia's, and Mozambique's experiences. Additionally, the Webinar will shed the light on the experiences and role of international development agencies in strengthening STI ecosystems featuring STI policy global experts from UNCTAD, UNESCO and IsDB.
Key issues to be addressed:
Highlighting the importance of strong STI ecosystems in supporting economic resilience.
STI ecosystem best practices and success factors. Featuring successful experiences and lessons learned in developing robust STI ecosystems from diverse maturity profile of IsDB MCs.
Highlight the role of STI within other critical economic sectors in accelerating growth and efficiency.
IsDB frameworks for supporting MC strengthening their STI ecosystems..