Dr. Hajjar: We Are Committed to Saving Women's Lives
Jeddah, Kingdom of Saudi Arabia, 25 May 2021 – Islamic Development Bank (IsDB) President, Dr. Bandar Hajjar, says health is deeply anchored in IsDB Group's vision and he is firmly committed to saving women's lives from cancer.
He made the remark while speaking to a high-level panel discussion on 25th May 2021 on the sidelines of the 74th World Health Assembly on: 'Uninterrupted Health Services for Non-Communicable Diseases (NCDs)' attended by Ministers of Health from Bhutan, India, Rwanda, the Gambia, as well as high ranking officials representing the United Nations Institute for Training and Research (UNITAR), the Institute of Global health Innovation, and Viatris, a global healthcare company. Senior representatives from World Health Organization (WHO) and other multilateral development banks (MDBs) were also on board.
Dr. Hajjar elaborated that, the IsDB, in partnership with the International Atomic Energy Agency (IAEA), has launched a call for innovation for "Saving Women's Lives from Cancer" under its innovation hub 'the Engage Platform'. He then expressed hope that this cooperation, through providing a concrete platform, would contribute to saving the lives of over 1 million breast cancer patients and 3.7 million cervical cancer patients over the next decade by comprehensively addressing cancer prevention, screening, diagnostics and treatment services for women in common Member Countries.
The IsDB President also explained that the Bank has joined hands with the UNITAR/Defeat NCD to enhance capacities and scale up community level action in providing medical support to low-resource IsDB member countries through the 5Ps model (Public-Private Philanthropic Partnership for People) and de-risk investment and fund associated projects.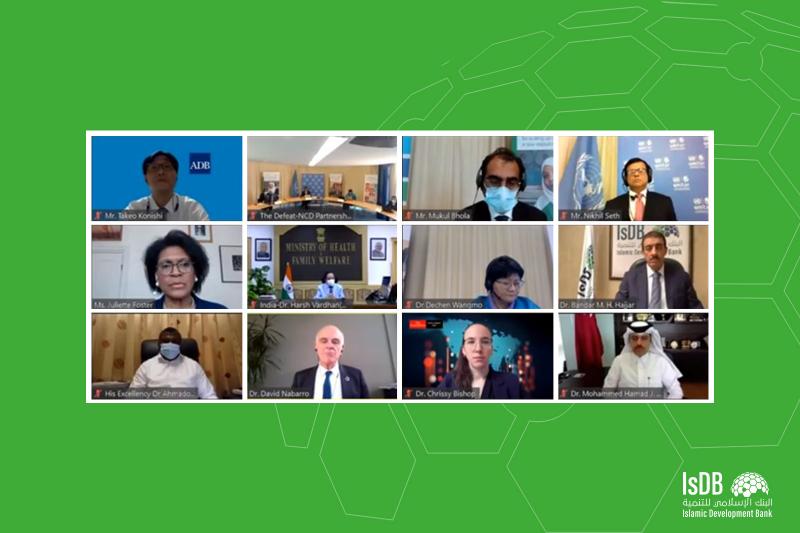 Furthermore, he stated that the IsDB Group has recently established an operational fund for 'SAVING WOMEN'S LIVES' from breast and cervical cancers; a US$ 500 million fund "to ensure uninterrupted health services for Non-Communicable Diseases during COVID-19 crisis.
The fund, whose underlying structure is based on the 5Ps model, is open to partners from around the world. It will also have a US$ 10 million grant from IsDB Group inclusive of a US$ 2 million committed by IsDB's Islamic solidarity Fund for development (ISFD). Member countries invited to participate in the first phase of this partnership initiative are Albania, Azerbaijan, Bangladesh, Benin, Burkina Faso, Djibouti, Iraq, Ivory Coast, Kyrgyzstan, Libya, Malaysia, Morocco, Niger, Sierra Leone, Senegal, Tajikistan and Uzbekistan.
According to Dr. Hajjar, IsDB, the AAA rated multilateral development bank of the Muslim world has so far approved US$ 7 billion of financing for development projects in the health sector and since 2013 has approved US$ 364 million in grants an loans for cancer control programs in several member countries including Senegal, Niger, Guinea, Uzbekistan, Suriname and Djibouti.
Through its Science, Technology, and Innovation (STI) Department, IsDB has also mobilized several global partnerships from key Health Partners operating in the field of diagnostics and healthcare technology delivery (including Abbott, General Electric, WHO, FIND, PATH) to immediately respond to shortages of essential healthcare supplies and strengthen local production capacity of medical health care products and pharmaceuticals.