The Development of Four Higher Education Institutions Project IDN1008 - Procurement of Equipment in Four Universities
SPECIFIC PROCUREMENT NOTICE
INDONESIA
THE DEVELOPMENT OF FOUR HIGHER EDUCATION INSTITUTIONS PROJECT IDN1008
PROCUREMENT OF EQUIPMENT IN FOUR UNIVERSITIES
Directorate General of Higher Education, Ministry of Education and Culture of Indonesia, has received a Finance from the Islamic Development Bank (IsDB) toward the cost of the Development of Four Higher Education Institutions Project and  intends to apply part of the proceeds towards payments under the contracts for procurement of equipment in four universities, namely University of Jember (UNEJ), The State University of Malang (UM), University of Mulawarman (UNMUL), and University of Sultan Ageng Tirtayasa (UNTIRTA).
The respective universities now invite sealed bids from eligible bidders for procurement of equipment as described in table below: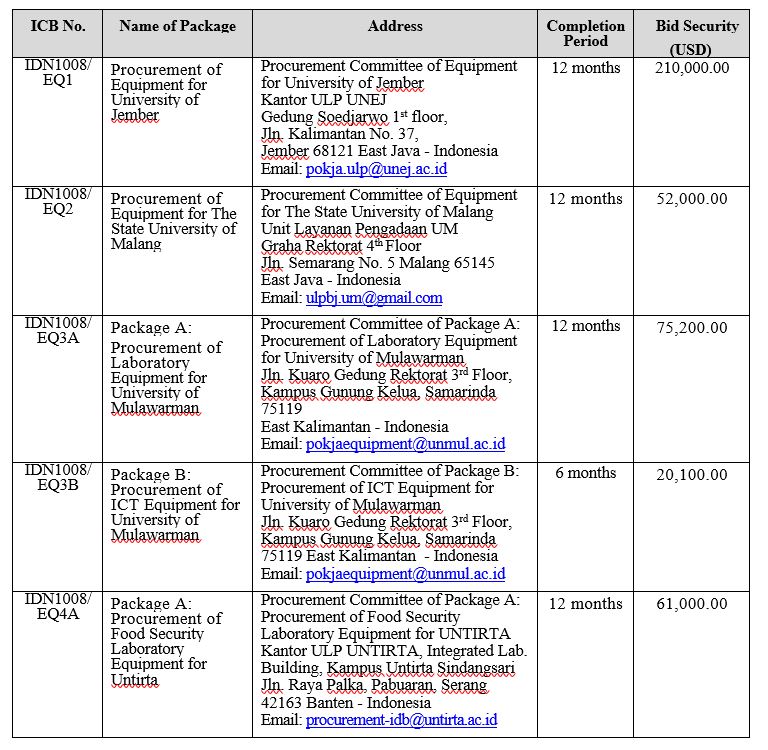 Bidding will be conducted through the International Competitive Bidding (ICB) with post qualification procedure as specified in IsDB Guidelines: Procurement of Goods, Works, and related Services Under Islamic Development Bank Project Financing April 2019, and is open to all eligible bidders as defined in the Procurement Guidelines.
Interested eligible bidders may obtain further information from respective universities and inspect the bidding document during office hour 08.30 – 14.30 local time, from December 10th, 2020 to February 5th, 2021 at the address given above.
A complete set of the bidding document in English may be acquired by interested eligible bidders upon the submission of a written application to the above addresses.
All bids must be accompanied by a bid security with amount as indicated in above table and must be delivered to the respective addresses before February 8th, 2021 at 14.00 local time.