GPN - RICE VALUE CHAIN DEVELOPMENT PROJECT (RVCDP) - including Seven Components
RICE VALUE CHAIN DEVELOPMENT PROJECT
(RVCDP)
GENERAL PROCUREMENT NOTICE
Country:     REPUBLIC OF CAMEROON
PROJECT:   RICE VALUE CHAIN DEVELOPMENT PROJECT (RVCDP)
SECTOR:    AGRICULTURE
PUBLICATION:     GENERAL PROCUREMENT NOTICE (GPN)
Mode of Financing:         ISTISNA'A/LOAN
Financing No.       [insert: Financing No.]
The Government of Cameroon has applied for financing in the amount of Euros 79.440 million equivalent from the Islamic Development Bank toward the cost of the Rice Value Chain Development Project, and it intends to apply part of the proceeds to payments for goods, works, related services and consulting services to be procured under this project. This project will be jointly financed by the BADEA, OPEC, KUWAIT and Cameroon Government
The project will include the following components:
COMPONENT I: RAISING RICE PRODUCTION AND PRODUCTIVITY
The objective of this component is to ensure the availability of production/postharvest infrastructure and equipment as well as inputs for increasing rice production and productivity. The activities under the component include
Development of 5000 ha of paddy field.

Improved access to the modern farm and post- 24 harvest equipment; and

Enhancement of access to 640 tons of certified seeds from cooperatives/private seed multipliers; acquire 9tons of basic seeds and complementary technologies through a partnership with IRAD/International Partner(s). Under this component, 50% of the beneficiaries should be women, young smallholder farmers.
COMPONENT II:  STRENGTHENING THE LINKS TO MARKETS.
The aim of this component is to enhance the profitability of smallholder farmers and small/medium scale rice processors by improving their access to markets and their capacity to add value to locally produced paddy and processed rice. The component is divided into 6 sub-components, comprising
Support to value addition.

Support to market infrastructure.

Rehabilitation/Construction of Access Roads.

The rehabilitation/construction of warehouses.

Fostering Enabling Policy, Institutional Environment; and

Design and Supervision Consultant (DSC).

 
COMPONENT III: FOSTERING ENABLING POLICY AND INSTITUTIONAL ENVIRONMENT.
The objective of this component is to support policy factors related to interventions, with emphasis on building strong public-private-partnerships and capacity building of farmers, cooperatives, and other stakeholders on the value chain activities in the areas of production, processing, and marketing. The component will have the following sub-components:
Capacity Building:

Support to field Placement of Young Graduates

Access to Finance

Land Expropriation and Compensation
COMPONENT IV: REHABILITATION/CONSTRUCTION OF SOCIAL INFRASTRUCTURES.
The objective of this component is to provide the rural population with infrastructure and services that are critical for the economic growth, poverty, 30 reduction, and social development of the communities. The key Infrastructures are,
construction of 15 new water supply systems (FN-5, NW7, W-3).

extension of 15 water supply systems (FN-5, NW-7, W-3);

construction of 40 water points (FN-10, NW-20, W-10);

rehabilitation/ construction of 5 schools (FN-1, NW-3, W-1) equipped with furniture & water.

rehabilitation/construction of 4 Health-Centers (FN-1, NW-2, W-1) , equipped with solar lighting system, & water;

construction of 5 Community Action Centers, (FN-1, NW-3, W-1) and

extension of electricity to the production basis by 125km.
COMPONENT V: PROJECT MANAGEMENT AND COORDINATION
This component will support project implementation activities and cover three key areas:
the Project Management Unit (PMU) which will be established in Bamenda (project headquarter) with three antennas in the substations.

Consultancy services (Audit, M&E, Mid-term and completion review); and

Start-up Workshop and familiarization.
COMPONENT VI: AUDIT
This component, financed by the IsDB, includes the services of an independent Financial Auditing Firm to audit project accounts covering the duration of the project
COMPONENT VII: CONTINGENCY EMERGENCY RESPONSE (CER)
This standalone zero-value component is embedded in the project to allow for the use of the present project resources to cover emergency response activities by re-allocating Non-Disbursed funds amongst approved components upon request from the country.
PROCUREMENT OF GOODS WORKS AND SERVICES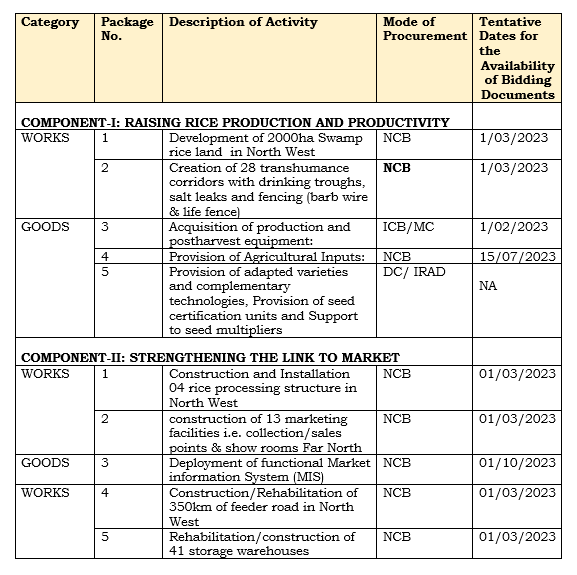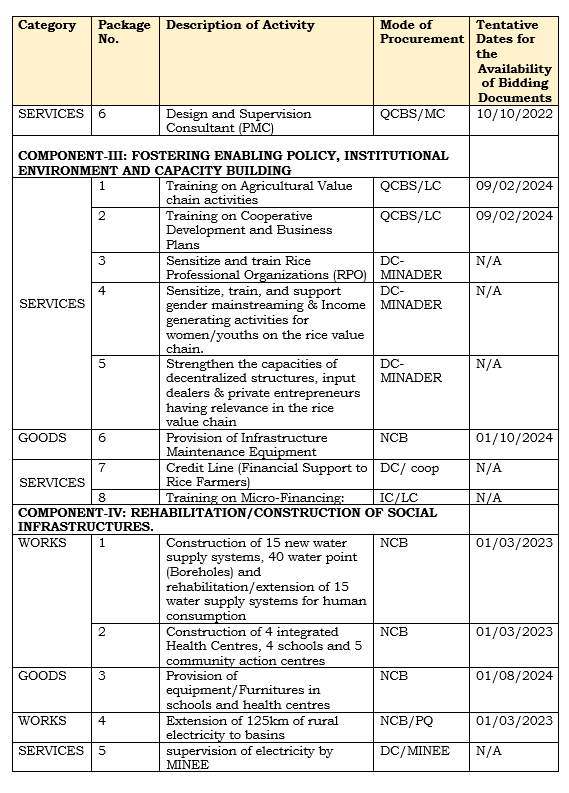 Procurement of contracts financed by the Islamic Development Bank will be conducted through the procedures as specified in the Guidelines for Procurement of Goods, Works and related services under Islamic Development Bank Project Financing (current edition), and is open to all eligible bidders as defined in the guidelines. Consulting services will be selected in accordance with the Guidelines for the Procurement of Consultant Services under Islamic Development Bank Project Financing (current edition).
Specific procurement notices for contracts to be bid under the Islamic Development Bank's international competitive bidding (ICB) or international competitive bidding – member countries (ICB/MC) procedures and for contracts for consultancy services will be announced, as they become available, in IsDB Website, UNDB Online, ARMP, Cameroon tribune, RVCDP website
Prequalification of suppliers and contractors will be required for the following contracts: NOT APPLICABLE
Interested eligible firms and individuals who would wish to be considered for the provision of goods, works and consulting services for the above-mentioned project, or those requiring additional information, should contact the Beneficiary at the address below:
Address:     RICE VALUE CHAIN DEVELOPMENT PROJECT (RVCDP)
Attention: Muluh Gregory Nguh; National Coordinator
                   Ayaba Street, Adjacent Finance Building, Bamenda, North West Region
P. O Box 1116 Bamenda,
Telephone: (237) 233361007, 699103000
Fax: (237)  233361665
Email:  info@rvcdp.org, muluhgn@yahoo.com       
Website: www.rvcdp.org