Sectors
Information & Communications
Digital Bangladesh: High-Speed Connectivity via Mobile Phones and the Internet
In the early years of the 21st century, Bangladesh was one country in South East Asia lagging behind the rest. Its citizens relied on out-of-date satellite systems while neighbouring countries were already benefiting from high-speed fibre-optic cables connections. This disadvantage was slowing down Bangladesh's development. To address the issue the Bangladeshi government, supported by the Islamic Development Bank developed a submarine fibre-optic cable, to provide fast reliable and secure access to the internet and to improve mobile phone connections.
Huge increase in internet users
The IsDB provided US$60 million for the project with the government of Bangladesh contributing the remaining US$8.02 million. This covered the cost of the 1,065km cable which was installed by the international submarine cable consortium South East Asia (SEA), Middle East (ME), Western Europe (WE) along with technical partners Alcatel- Lucent of France and Fujitsu of Japan. The cable already served 13 other countries starting from France via Saudi Arabia, to Singapore and now connects Bangladesh at Cox's Bazar, in the south east of the country.
The new cable has had substantial impacts for Bangladeshi people and businesses. In 2004 there were just 23,000 internet users, but since the completion of the project, the number of users has soared, reaching 54 million by December 2015. The number of mobile phone users has crept up rapidly as well from 3 million users in 2004 to 133 million by December 2015. People are using the improved connectivity for a diverse range of functions such as better overseas communication, online transactions, business and trade and simply for the transfer of knowledge.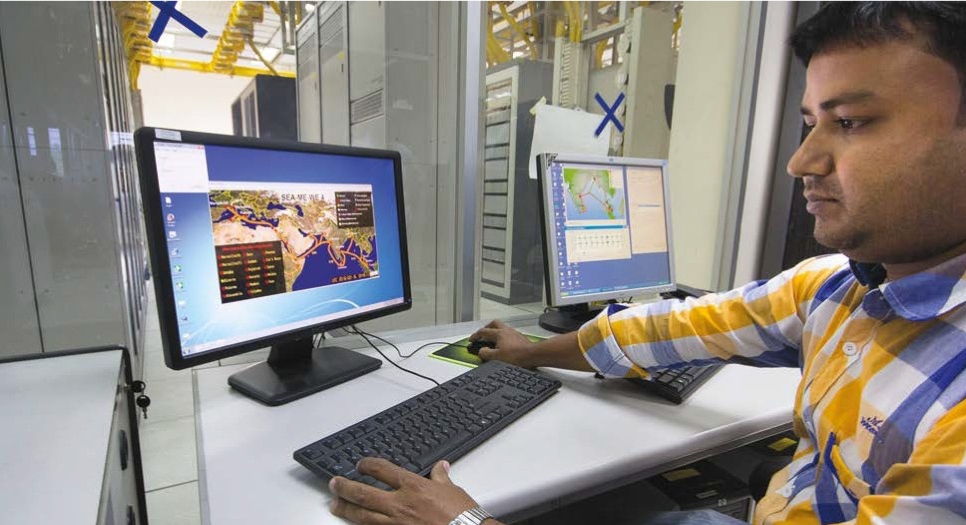 Improving education opportunities
Students in Bangladesh are benefiting profoundly from the increased connectivity brought by the new cable. The high-speed connectivity on campus enables students to access lecture notes, video lectures, emails and social networks as well as allowing them to get into contact with people in their field all over the world. As well as helping students, the improved internet connection makes life easier for staff and allows for more enhanced teaching.
Visitors to the country can also now enjoy the improved connectivity. Mr Salman Kabir, Assistant director of Marketing and Public Relations at Dhaka's Pan Pacific Sonargaon Hotel emphasised the increasing necessity for faster connectivity in the area. The majority of travellers visiting Dhaka are for business purposes so it was imperative that their needs were catered to. Broadband became available in 2008, and in 2011, the hotel installed a '360-degree' Wi-Fi system. This meant that its clients were now fully and reliably serviced with internet connectivity throughout the building – just in time for the Cricket World Cup, which Bangladesh co-hosted.
Away from the bustle of Bangladesh's business sector, people young and old are enjoying the faster internet connections when logging on at home. This helps families stay connected with relatives all over the world, helps young people with schoolwork, playing games and enables them to access social media.
Making the whole country digital
Improving mobile and internet coverage will, in time, help develop many poorer rural parts of the country as well. This will be a step towards the government's long - term goal in making the whole of Bangladesh's aim to make the whole country 'digital' by 2021. At present rural areas are restricted to 2G and 3G technology and the remotest rural areas still rely on microwave and satellite connections but there are plans to establish at least one 'data centre' per group of villages.  The rural connectivity is already proving beneficial to the local Bangladeshis one example being 'telemedicine'. Doctors in remote villages hold online conferences with counterparts in Dhaka who help them with diagnoses. This service is set to become even more widespread.
The submarine fibre-optic cable will form the basis of Bangladesh's internet and mobile provision for years to come, but it has a lifespan of 25 years, and so a replacement plan must be in place long before this. The country has already signed a contract with the SEA-ME-WE Consortium to build a second submarine cable link. This will future-proof the technology to ensure that it can cope with increasing internet traffic.