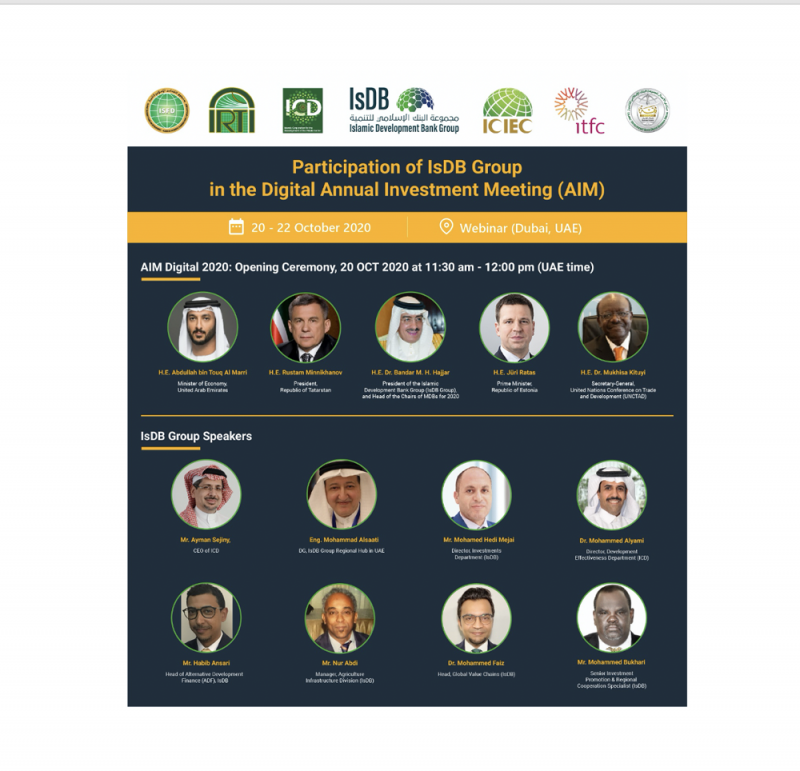 Digital Annual Investment Meeting (AIM) 2020
Online
-
IsDB Group President and Head of the Chairs of the MDBs for 2020, His Excellency Dr. Bandar Hajjar, is scheduled to attend the "Digital Annual Investment Meeting" (AIM), 2020.
The opening ceremony of the high-profile event, set to convene on 20 October 2020 at 11:30AM – 12:00PM (UAE time), will also be participated by other leading global figures including, H.E. Abdullah bin Touq Al Marri, Minister of Economy UAE, H.E. Rustam Minnikhanov, President of Republic of Tatarstan, H.E. Jüri Ratas,  Prime Minister of Republic of Estonia and H.E. Dr. Mukhisa Kituyi, Secretary-General of United Nations Conference on Trade and Development (UNCTAD).
Under the theme of 'Reimagining Economies: The Move Towards a Digital, Sustainable and Resilient Future' the AIM 2020 is expected to generate, showcase, and facilitate the most attractive investment projects and opportunities for investors from Member Countries, providing boundless possibilities across diverse sectors leading towards economic recovery, transformation, and sustainability.
The three-day digital event is to be attended by Ministries and Government Departments, International and Regional Organisations, Investment Promotion Agencies, Special Economic Zones, Private Equities, Angel Investors, Venture Capitalists, Start-ups, Incubators, Chambers of Commerce and Industry, SME Financing Institutions, Smart City Solution Providers, and Technology Providers, among others, from more than 170 countries.
The Forum will discuss several topics including FDI, exploring the possibilities for new avenues of investments to boost the market during COVID-19 and accelerating sustainable development goals (SDGs) through smart sustainable investments, in addition to, reviewing Foreign Portfolio Investment (FPI) and challenges to attracting investments during the pandemic.