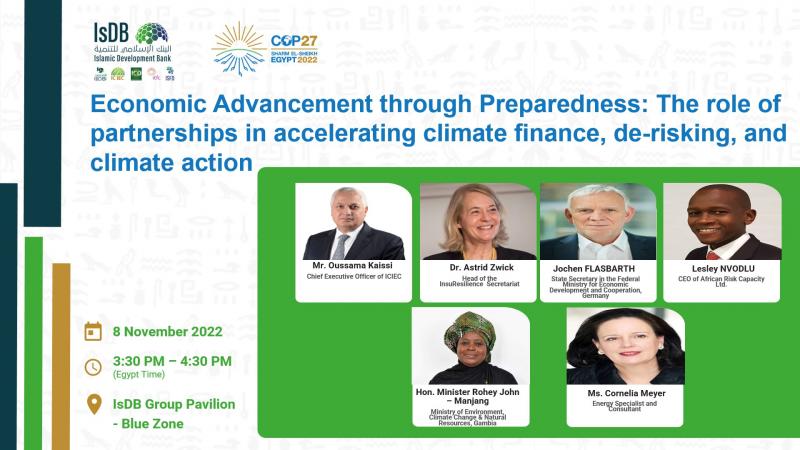 Economic Advancement through Preparedness: The role of partnerships in accelerating climate finance, de-risking, and climate action
3:30 PM to 4:30 PM (Egypt Time)
Time & Date of Event
3:30 PM to 4:30 PM on Tuesday, 8th of November 2022
Event Overview
The Global Climate Crisis remains paramount on the international developmental agenda and is interconnected with other structural global challenges, such as Food Security impacted by the war in Ukraine and structural Energy Poverty in the economic south. Amidst the global financing shortfall of 1 Trillion, 150 billion USD for Climate Action projects, including for Climate Change Mitigation and Climate Change Adaptation by 2030, the issues of climate resilience and climate disaster mitigation remain central to the needs of V20 Member Countries (a grouping of the countries most systemically vulnerable to Climate Change). Climate Risks cannot be viewed in isolation as a variable that will materialise in the near future; the prevalence of severe weather patterns, including floods, droughts, and storms that are more frequent, pose a real-time threat to economic planners and to the lifecycle of projects and to economic productivity.  
Cost of responding to disasters will continue to increase. Governments of developing countries and affected households divert funds to address short-term (disaster) response measures. Hence, there is an urgent need to shift from reactive climate and disaster risk management to investing in pre-arranged, predictable financing on standby for early action, relief, and recovery. The certainty for funding enables more reliable planning and can reduce the impact of shocks. This is why the InsuResilience Global Partnership initiative was launched in 2017, bringing together representatives of the G20 and the V20 (the Vulnerable Twenty Group) and representatives of international organisations, the private sector, civil society, and academia.  
More recently, the G7 Presidency, led by the Federal Republic of Germany, and the V20 grouping of countries most systemically vulnerable to climate change have joined efforts to address climate risks. There is currently no mechanism for immediate finance in an efficient and effective way for V20 economies and populations. The aim of the Global Shield against Climate Risks is to provide and facilitate pre-arranged protection against climate and disaster risks. Many of ICIEC's Member Countries are located in the Sahel region, which is extremely vulnerable to climate change reflected in accelerated desertification, flooding in areas, and associated detrimental effects of livelihoods and agricultural output. A blend of sovereign insurance, corporate risk transfer, and microinsurance provides a direct response to drought-related food crises.  
The Gambia, as a member of both the IGP and ICIEC is a developing country whose developmental course is threatened by climate change. The three primary climate related risks faced by the Gambia are river flooding, coastal flooding and water scarcity. The Gambia has shown leadership and commitment towards climate action by submitting its second Nationally Determined Contributions report entitled 'The Gambia's long-term Climate-Neutral Development Strategy 2050. 
Bangladesh, as a member of both the IGP and ICIEC is a rapidly developing country whose developmental course is threatened by Climate Change. The three primary climate-related risks faced by Bangladesh are primarily sea level rise as well as flooding, more severe typhoons, and extreme weather patterns. The updated Nationally Determined Contributions report of Bangladesh offers a credible blueprint for mitigating climate risk. 
Event Outcomes
Full familiarisation with the Global Shield and InsuResilience Global Partnership.  
Increased awareness about ICIEC's de-risking role for climate finance in the Gambia and Africa. 
Showcasing ICIEC Climate Action interventions.  
Receiving inquiries from international banks and investors to help cover climate action-related transactions in the Gambia and Africa. 
Recognise ICIEC as a key partner in the Global Shield and the InsuResilience Global Partnership.