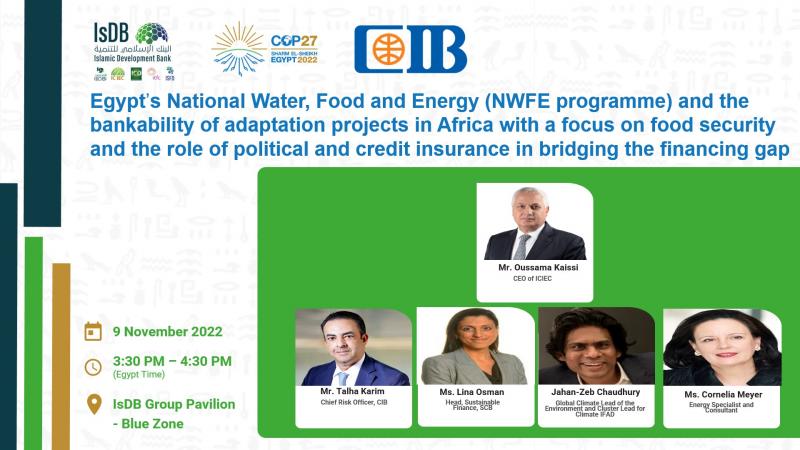 Egypt's National Water, Food and Energy (NWFE programme) and the bankability of adaptation projects in Africa with a focus on food security and the role of political and credit insurance in bridging the financing gap
3:30 PM to 4:30 PM (Egypt Time)
Time & Date of Event 
3:30 PM to 4:30 PM on Wednesday, 9th of November 2022 
Event Overview 
Climate Action is based on mitigating the release of greenhouse gases with a focus on the generation of renewable energy. The second and equally important pillar of Climate Action is adaptation to the detrimental effects of Climate Change, specifically, climate stresses on water security and food security. With Egypt's launch of the National Water, Food and Energy programme, the opportunity arises to showcase the bankability of adaptation projects. The war involving Ukraine and Russia has posed serious challenges to the food security of grain importing countries in Africa and to structural Energy Poverty globally. 
There is a global financing shortfall of 1 Trillion, 150 billion USD for Climate Action projects including for Climate Change Adaptation, which can only be addressed through credit and political de-risking tools such as those offered by ICIEC. 
Egypt has a bold Vision2030 agenda which underpins NWFE and has Climate Change adaptation at its heart. Climate Security affects water poverty, protection of coastal areas, development of sustainable cities and waste management. All ICIEC Member Countries in Africa face similar challenges. Private sector entities have specific targets for climate financing under their ESG targets and this Side Event will showcase the banking sector's perspectives on the bankability of adaptation projects with a focus on Food Security. 
Risk and Sustainability experts in international banks will share their related experiences, success stories, best practices and explore investment and trade opportunities for adaptation. This is a unique platform to address frameworks and methodologies for appraising adaptation projects with a focus on Africa. 
Event Outcomes 
Climate Adaptation bankability awareness  
Climate Action financing awareness in Egypt, the Arab Region and Africa  
Unpacking the benefits of financing plus de-risking.