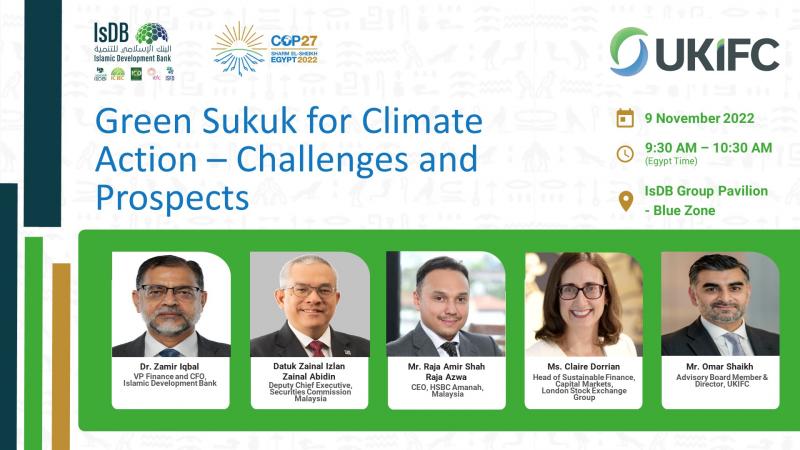 Green Sukuk for Climate Action – Challenges and Prospects
9:30 AM to 10:30 AM (Egypt Time)
Time & Date of Event
9:30 AM to 10:30 AM on Wednesday, 9th of November 2022
Event Overview
To actualize the 2030 sustainable development agenda, Paris Agreement, and ultimately drive green and sustained economic growth, a huge amount of financing is required from diverse, unconventional, and innovative sources. The sustainable debt market continues to play a significant role in this space. In recent years, Green and Sustainability-linked debt market instruments, including Green Sukuk/bond and Sustainability Sukuk/bond, have emerged as bespoke financial instruments to tackle the numerous environmental and social challenges throughout the world and their role towards achieving the SDGs and efforts to transition into a green economy has only expanded.
There is a growing need to scale up and leverage sustainability-linked finance from non-traditional financing modalities such as Sukuk, including their alignment with institutional, legal, and governance frameworks to boost global efforts and ambitions to transition to a green, robust, and resilient economy.
Green Sukuk represents an opportunity to attract capital at scale to help OIC Member Countries (and beyond) fund their Nationally Determined Contribution (NDC) commitments, which will be the focus of this Side Event.
The main objective of this Side Event is, therefore, to bring together crucial stakeholders in the Sukuk and bond markets to share experiences and thoughts on how IsDB Member Countries and others can leverage the numerous opportunities offered by Green Sukuk to support and mobilize financing for their transition to become green economies. It will also highlight the mandate and extensive work of the High-Level Working Group on Green and Sustainable Sukuk, which was launched in November 2021 during the COP26 by founding partners such as the Islamic Finance Council UK (UKIFC), HM Treasury of the British government, Indonesia's Ministry of Finance, IsDB, London Stock Exchange Group, and the Global Ethical Finance Initiative (GEFI). 
Event Outcomes
Improve the comfort level of potential issuers, investors, and other stakeholders with the Sukuk instrument, as it is still perceived to be a complex product.
Increased awareness of international green, social and sustainability Bond standards that need to be adhered to by Sukuk issuers.
Enhanced understanding of various government as well as private stakeholders on their roles to contribute to a vibrant local market for Green, Social and Sustainability Sukuk.
Increased understanding of the linkage between member countries' long-term green, low carbon, climate resilient goal and strategies and the available market-based instruments to support these strategies and goals.
Greater awareness of the IsDB experience as well as the work of the High-Level Working Group on Green Sukuk (including showcasing a Green Sukuk report that will be published on 24th October 2022 by Refinitiv)