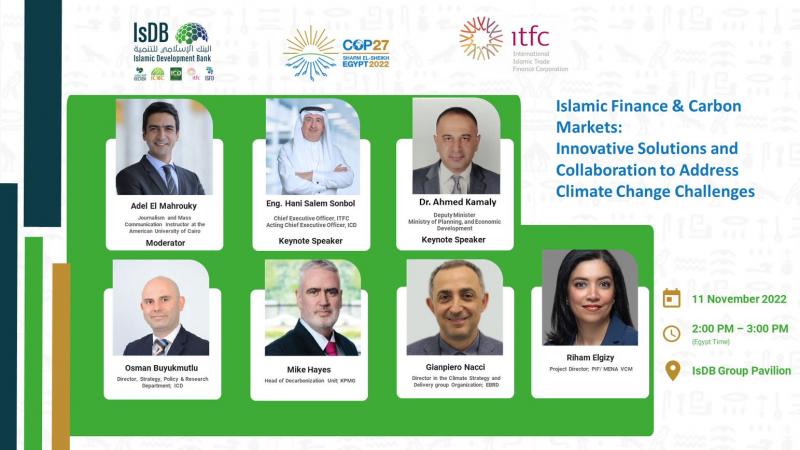 Islamic Finance & Carbon Markets: Innovative Solutions and Collaboration to Address Climate Change Challenges
2:00 PM to 3:00 PM (Egypt Time)
Time & Date of Event 
2:00 PM to 3:00 PM on Friday, 11th of November 2022 
Event Overview
Climate change is identified as one of the most critical and pressing challenges impacting the socio-ecosystems around the globe, with associated risks leading to severe consequences in terms of resource scarcity, displaced populations, economic vulnerability, and much more.  

As part of the efforts to develop effective solutions to help address climate change challenges, Carbon Markets are considered a key tool in facilitating carbon offsetting — compensating for greenhouse gas emissions and enabling companies and people to offset their carbon footprint as part of commitments to social responsibilities.  

Shariah principles, in general, seek social welfare and economic development, and the protection of human livelihood and environment are clearly in conformity with the goals of the Shariah, and hence by default, Islamic finance has great potential for driving the development of innovative instruments and solutions towards climate actions.  

MVCM and ITFC are creating a historic partnership with sources and authorities of Islamic Finance that will allow businesses to engage in carbon credit offsetting capitalizing on Shariah-compliant financing services through the region's first voluntary carbon market, driving new and innovative ways to reach social responsibilities commitments and NetZero emissions targets while ensuring that climate finance, and carbon markets, align with the core foundations and principles of Shariah principles, representing integrity and prosperity. 
Event Outcomes
The intended outcome of the event is to broaden people's understanding of Islamic Finance and its role in combatting climate change. Islamic Finance is opening many doors to investment in the MENA region and driving a cultural change in how the region approaches climate change. As an economic philosophy, Islamic Finance believes in going above only producing economic value and instead producing social value that can be shared with family, neighbors and those around you. With the first voluntary carbon market in the region collaborating with Islamic Finance, people attending this side event will be able to learn how the two benefits from each other and how this will build a pathway for the conservation, scaling, and development of precious natural resources in the region, like mangroves, and sea grass. The side event is meant to introduce new key players into the complex landscape of carbon credit trading and bring the credibility, expertise, and unique approach of the Islamic faith and its finance.