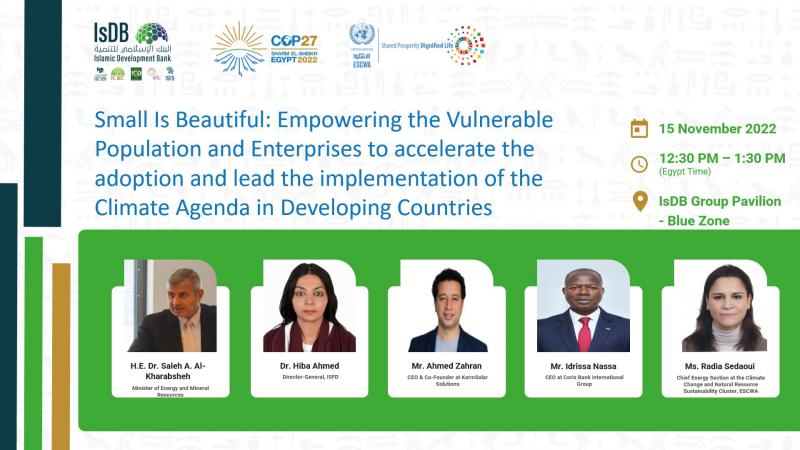 Small Is Beautiful: Empowering the Vulnerable Population and Enterprises to accelerate the adoption and lead the implementation of the Climate Agenda in Developing Countries.
12:30 PM to 1:30 PM (Egypt Time)
Time & Date of Event 
12:30 PM to 1:30 PM on Tuesday, 15th of November 2022 
Event Overview 
To address climate change, businesses of all sizes will need to contribute to decarbonization efforts by reducing behaviors harmful to the climate and environment and by engaging in sustainable practices.  
The objectives of the Side Event are: 
To discuss the impact and the challenges of climate change on poverty, Job creation, and vulnerable populations and enterprises in member countries, especially the MSMEs ; 
Increase the private sector engagement in adaptation efforts by highlighting a set of initiatives, policies, and actions that development practitioners, donors, and public actors might adapt to create an enabling environment in which MSMEs not only become more climate resilient but also contribute toward the resilience of others 
Share lessons learned, innovative business models and best practices from governments, development institutes and private sector that could be adapted in other countries with respect to support the MSMEs to contribute in the climate adaption efforts in the IsDB MCs  
To influence policymakers, development partners, and climate funds in order to unlock, catalyze, and/or direct investments for MSMEs to take into account current and imminent climate change risks and opportunities. 
To share best practices and foster brainstorming among stakeholders about innovative/full-fledged green financing instruments/mechanisms that can be developed to support vulnerable populations and MSMEs engaged in small agricultural activities in rural areas in LDMCs.  
Discuss how the renewable energy sector may provide opportunities for economic inclusion of MSMEs in member countries. 
Event Outcomes
Highlight the role of Vulnerable Enterprises and the MSMEs support (either under line of financing or through guarantee) in accelarting the climate adaptation in developing countries. 
better visibility for ISFD EED collaboration,  
Highlight the future plans for supporting projects that address the climate change  
Concluding some recommendation for the engagement of governments in the support of MSMEs, 
Highlight the need to design a tailored product to empower the MSMEs in LDMCs through the national FI and Banks  
Better understanding of the possible practical green financing instruments adapted to small rural agricultural activities in LDMCs