IsDB's Strategic Realignment - A Promising Strategy for a Sustainable Future
Since its inception in 1975, the Islamic Development Bank (IsDB) has been at the forefront of driving development in its member states and supporting Muslim communities in non-member states. In the face of the COVID-19 pandemic and the resulting setbacks in achieving the Sustainable Development Goals (SDGs), IsDB has taken a proactive step toward addressing these challenges through its strategic realignment. This realignment was at the request of IsDB governors during the Bank's 46th Annual Meeting in Uzbekistan in September 2021.
The Realigned Strategy 2023-2025 resulted from an inclusive and participative process involving several contributions from over 150 staff of the bank and its entities and consultations with stakeholders in member states. The process was guided by the Vice President of Operations and the Vice President of Finance and CFO and supported by a steering committee overseeing six specialized working groups. The outcome was a Realigned Strategy developed in-house, with full internal ownership for its successful implementation.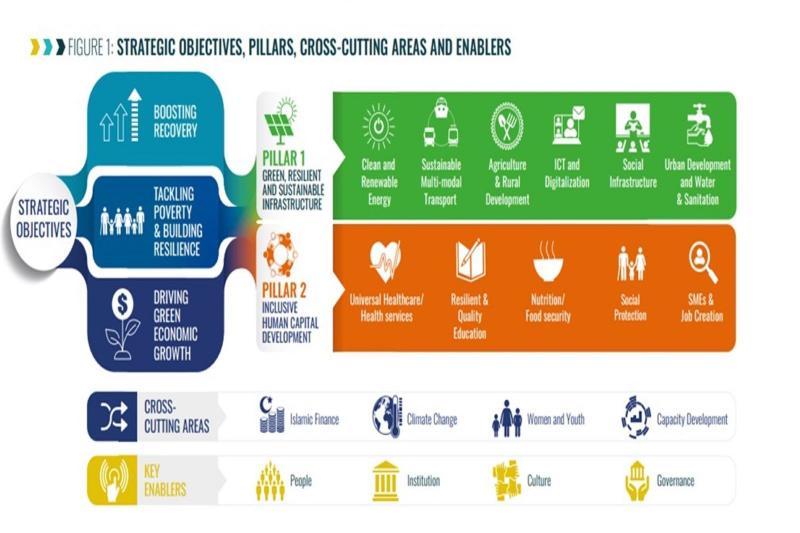 The Realigned Strategy hinges on three overarching objectives: boosting recovery; tackling poverty and building resilience; and driving green economic growth. These objectives will be achieved by focusing the Bank's interventions on two key pillars over the next three years (2023-2025): (1) developing green, resilient, and sustainable infrastructure; and (2) supporting inclusive human capital development through projects and capacity development initiatives.
The IsDB's emphasis on green, resilient, and sustainable infrastructure is crucial to addressing the challenges of recent crises, including climate change and its impact on member states, based on a "build back better" approach. For instance, climate change-induced droughts in Eastern Africa and elsewhere have put millions of people at risk of malnutrition. The IsDB's commitment to developing green infrastructure will go a long way toward addressing this issue, as well as other issues related to the quality and sustainability of our member states' infrastructure. Equally important, a healthy and steady pipeline of good quality projects focusing on green and resilient infrastructure will allow the Bank to be a leader in mobilizing cost-effective funds from global capital markets through Green, Sustainable, and Impact Sukuk targeting ESG and SRI investors base.
Furthermore, the Realigned Strategy's focus on inclusive human capital development is a significant step toward addressing the gaps in the availability and quality of human capital development in member states. These gaps are significant, with considerable differences across member states at different levels of development. Through this strategic pillar, IsDB provides much-needed support to build the necessary skills and capabilities to support human development and drive sustainable economic growth.
The endorsement of the Realigned Strategy by the IsDB Board of Governors at the IsDB 47th Annual Meeting held in Sharm El Sheikh, Egypt, in June 2022 was a significant milestone. It emphasized the commitment of IsDB to becoming more responsive and efficient in addressing the challenges faced by member states and Muslim communities worldwide.
The Realigned Strategy is a compelling strategy for a sustainable future. It provides crucial guidance for IsDB toward supporting its member states in achieving the SDGs by 2030 and the 2025 Action Plan of the Organization of Islamic Cooperation.
In conclusion, IsDB's Realigned Strategy (2023-2025) is a crucial milestone toward addressing the challenges facing member states and Muslim communities in non-member states.
Focusing on green infrastructure and human capital development is vital to achieving sustainable economic growth and putting our member states back on track to achieving the SDGs. As we look toward a sustainable future, IsDB is firmly committed to becoming a beacon of hope that ushers in a better tomorrow by driving development in its member states and supporting Muslim communities around the globe.