Team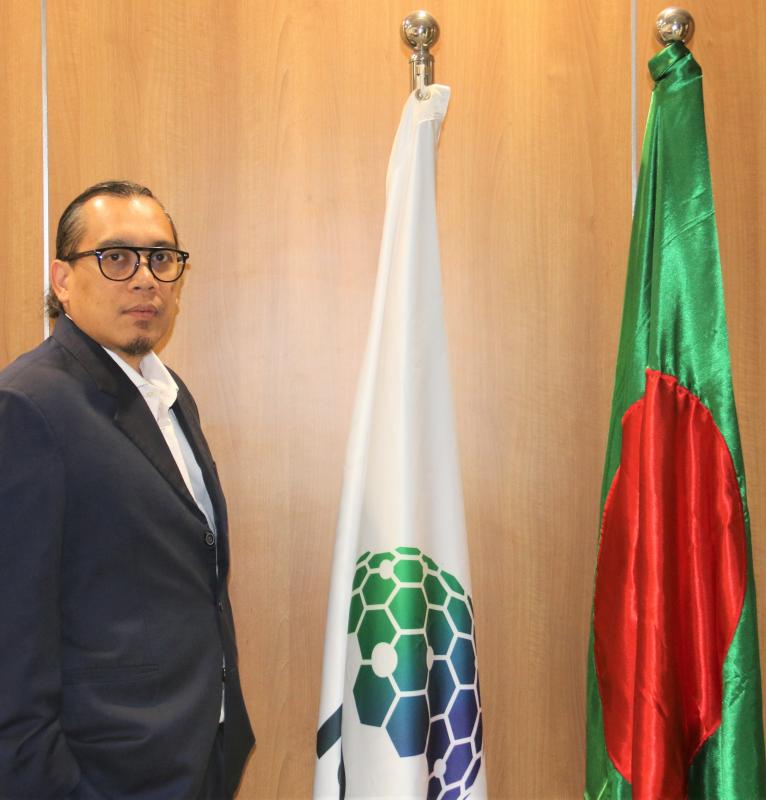 Regional Hub Manager (Resident Head)
IsDB, Regional Hub of Dhaka, Bangladesh
Muhammad Nassis Bin Sulaiman

Mr. Nassis Sulaiman has been working in international banking sector for over two decades and has served counties including Saudi Arabia, Maldives, Afghanistan, Bangladesh, Indonesia, Brunei Darussalam and Malaysia.

Mr. Sulaiman has been awarded with Bachelor of Accountancy degree by University of South Australia, Australia. He is also Certified Practising Accountants (CPA) from Australia.

Mr. Sulaiman joined IsDB in 2009 and is currently the Regional Hub Manager of Regional Hub, Dhaka, Bangladesh. He is responsible for the overall strategic engagement of the socio-economic development and implementation of IsDB projects/program activities in Bangladesh and Maldives. In addition, he is leading a team of both international and local professionals in addition to affiliates of IsDB Group namely ITFC, ICIEC and ICD to cover wide spectrum of both public and private sector engagement.

Mr. Sulaiman served at different leadership capacities in IsDB prior to his current role of Regional Hub Manager. He worked for Islamic Republic of Iran, Maldives & Afghanistan for the period of 2015- 2018 and Bangladesh, Indonesia & Brunei Darussalam for the period 2009-2014. He managed the Country-Wide public sector funding requirement ranging from infrastructure development (Power/ Energy/ Transportation) to Human Development (Education/Health etc.). He developed comprehensive member country (MC) partnership strategies with the respective Ministry of Finance culminating into suitable financing plan for a period of 3-5 years. Among notable achievements to date were the completion of Member Country Partnership Strategy (MCPS) for Bangladesh (1st MCPS & 2nd extension exercise) and Indonesia (2nd MCPS). He also contributed greatly to co-financing arrangement with other Development Partners e.g., WB, ADB, JICA and Arab Coordination Group in terms of financing mega-projects and cross-selling PPP and private sector financing to other IDB entities.

Mr. Sulaiman has also been nominated as Chairman of the Mutawallis Committee of Islamic Development Bank-Bangladesh Islamic Solidarity Education Waqf (IsDB-BISEW) for the period 2021 - 2024. In this capacity, Mr. Sulaiman will lead the Mutawallis Committee constituted by six members of which, three members represent the Islamic Development Bank while the other three members come from the Government of Bangladesh.

Prior to joining IsDB, Mr. Sulaiman worked in different national and international financial institutes at various national and international capacities.
Regional Hub Dhaka, Bangladesh
Operations Team Leader - EI
Abu Sandy Bockarie
Technical Assistant
Ariful Islam Shakil
Country Manager, ICIEC
Hasan Mohammad Nayeem Rahman
Head of Administration
Md. Forkhan Uddin
Country Economist
Md. Golam Mortaza
Field Disbursement Officer
Md. Mahabubul Alam
Field Procurement Officer
Md. Monirul Islam
Accountant
Md. Osman Goni
Project Management Specialist
Md. Robiul Islam
Regional Manager & Resident Country Head
Muhammad Nassis Sulaiman
Operations Team Leader (Urban Development)
Nasser Mohammed Yakubu
IT Officer
Shaikh Tahsin Ahmed