The Islamic Development Bank (IsDB) has priced its largest Sukuk issuance ever, raising US$ 2 billion in 5-year Trust Certificates under its US$ 25 billion Trust Certificate Issuance Programme. This is the first public issuance of 2020 by IsDB, a Aaa/AAA/AAA Moody's, S&P and Fitch (all stable outlook), Bank. The Sukuk was priced at with a profit rate of 1.809% payable on semi-annual basis. 
IsDB partnered with leading Managers and Joint Bookrunners including Citi, Dubai Islamic Bank, HSBC, Landesbank Baden-Württemberg, Natixis, Standard Chartered Bank and the Islamic Corporation for the Development of the Private Sector.
The trade was announced on Tuesday, 18th February with the release of the initial price thoughts of Mid Swap (MS) plus high-40s basis points (bps) area at London opening. The strong demand from investors in the form of indications of interest were over US$1.15 billion, which allowed IsDB to revise the guidance at MS + (40 – 43) bps range at London open the next day. The deal was eventually priced on Wednesday, 19th February at MS plus 40bps, which resulted in an overall lower profit rate compared to IsDB's October 2019 issuance which had a profit rate of 1.957%.
Achieving its highest ever order-book with tight pricing and in a cautious market environment (due to the Covid-19 outbreak) this transaction once again validates IsDB's robust credit and financial position, reaffirmed by its AAA ratings. Coupled with its commitment to support liquidity in Islamic capital markets, it made a compelling story for investors to participate in the book, with many novel names entering for the first time.
The final allocation has a well-diversified distribution, with 46% allocated to MENA, 33% to Asia, 21% to Europe and others, respectively. Overall the deal saw strong participation from real money accounts and official institutions, which is another demonstration of IsDB's credit strength. 79% was allocated to central banks and official institutions, followed by 13% to banks, 8% to pension fund, fund managers and others. 
The Trust Certificates will be listed on the Euronext Dublin, NASDAQ Dubai and Bursa Malaysia (under the Exempt Regime). 
Following the successful pricing, H.E. Dr. Bandar Hajjar, President of the IsDB Group, said: "I would like to thank the IsDB's Member Countries and other investors for their trust in IsDB and its mission and for their unwavering support in making this the largest Sukuk issuance ever for IsDB. We hope that the lower cost of funding will continue to contribute towards extending better financing terms to our Member Countries for supporting their developmental needs. We are also very happy to see new investors subscribing to IsDB Sukuk."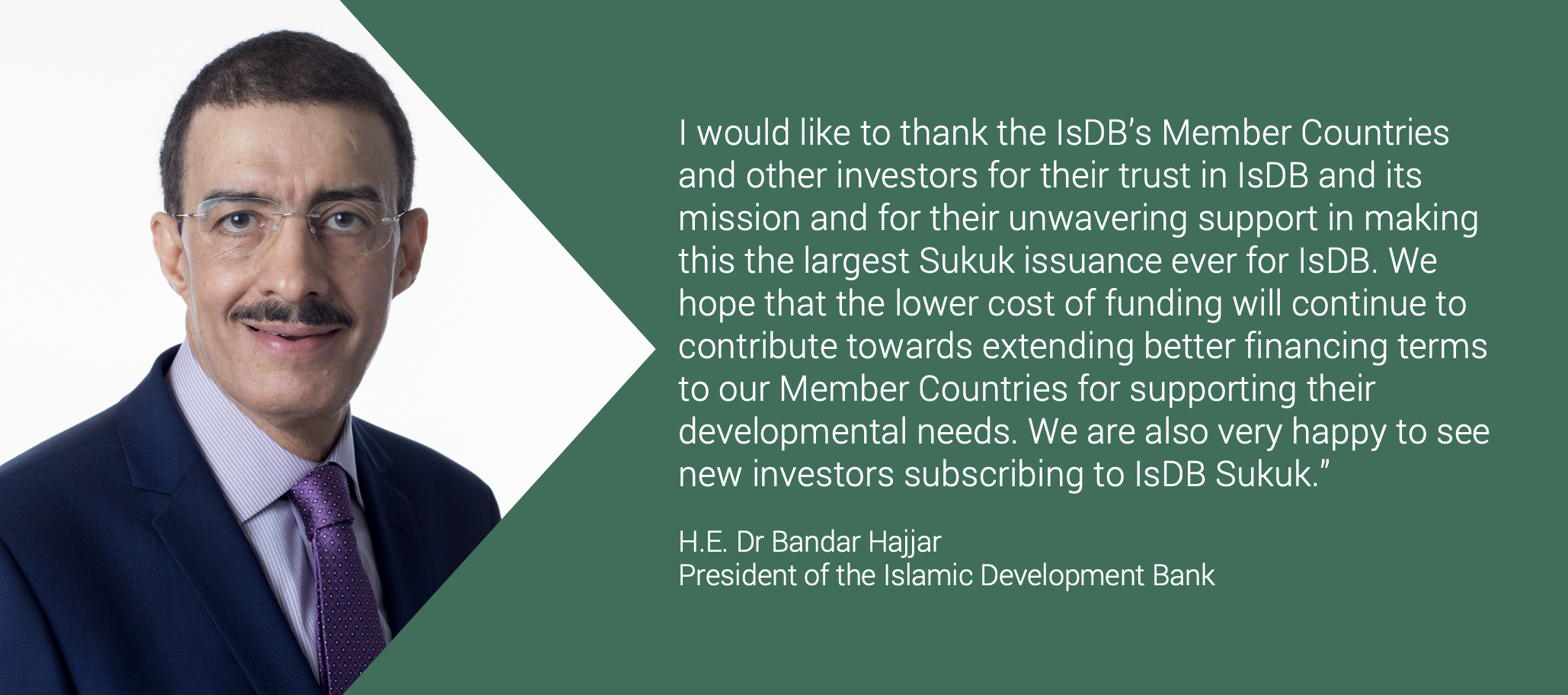 H.E. Dr. Zamir Iqbal, IsDB Vice President of Finance and CFO, said: "This is our biggest ever Sukuk issuance and we are delighted to have achieved this milestone this early in the year. With our 2020 funding plan target which is north of US$ 5 billion, we look forward to the strong support of the investors who are looking for the best risk-adjusted returns with our AAA-rated paper. The investor diversification we achieved shows that the IsDB development story is gaining stronger traction in new markets and we hope to sustain this momentum for future issuances." 
Dr. Yasser Gado, IsDB Treasurer said: "We are very pleased with the outcome of the deal which met our objectives of building on the success of our prior deals and achieving a lower overall pricing for the Sukuk. This is a testament of the robust balance sheet of IsDB and will only improve the investor perception of our Sukuk when we return to the markets later in the year. We would like to commend the joint lead managers for their efforts delivering a successful deal."
Mr. Salman Ansari, Managing Director and Head of Capital Markets, West., Standard Chartered Bank, added: "The issuance has been a resounding success as evidenced by the deal size as well as pricing - Islamic Development Bank priced their biggest US Dollar Sukuk issuance to date, US$2billion at a profit rate which is the lowest since 2016. On the distribution side, there was strong representation from Global Central Banks, Pension Funds, and Bank Treasuries with successful diversification into new investor names; this is particularly strong validation to the team's consistent and effective marketing efforts."