Team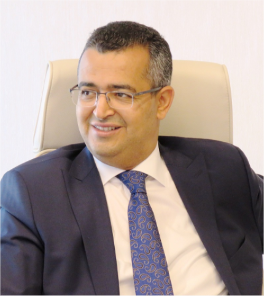 Regional Head, Regional Hub Indonesia
Mr. Salah Jelassi

Mr. Salah Jelassi, is currently the Resident Representative at the Islamic Development Bank (IsDB) Group Regional Hub in Indonesia. Previously, Mr. Jelassi was the Resident Representative at the IsDB Group Regional Hub in Turkey. Before being appointed to lead the launching of the IsDB Group Country Gateway Office in Turkey, Mr. Salah Jelassi has served for 14 years at the IsDB Group and has held various senior positions in the areas of economic research, trade, as well as development operations. His years of service as Technical Advisor to the President of the IsDB Group during the period 2007-2014 brought him unique exposure to the various development challenges and a profound understanding of strategic and policy issues in the IsDB Group Member Countries. Through high level policy dialogue with the country and by implementing innovative development solutions, he has successfully positioned the IsDB Group as one of the major development partners of Turkey. In earlier stages of his career, Mr. Jelassi also served in various positions, including academia, research, training, and finance. He has pursued his Ph.D. studies in Economics after obtaining a master's degree in Economics from Bilkent University, Turkey, in 1996. He has attended several leadership and professional development courses from renowned training institutes such as Ashridge Business School, Thunderbird Executive Training, etc. Mr. Jelassi has also participated in many conferences, seminars, international meetings on various developmental issues. 

Mr. Jelassi is a Tunisian national and fluent in Arabic (mother tongue), French, English, and Turkish. He is married and father of a daughter (19) and a son (16).
Regional Hub Indonesia
Reception & Lobby
Ade Ayu Ambarwati
Program Manager Kafala
Ahyahudin Sodri
Country Economist
Ali Mansour Fallahi
Executive Assistant
Audiva Navisha
Project Management Specialist
Deni Ahmad Fauzi
Field Procurement Officer
Enggar Prasetyaningsih
Field Disbursement Officer
Evi Rosantini
ITFC Project Officer
Fathu Hidayat Rahmatulloh
Operations Team Lead
Fatih Turkmen
PPP Consultant
Iqbal Reza Fazlurrahman
ICIEC Country Manager
Miguel Kosasih
Project Management Specialist
Mohamad Adhi P Dipo
ITFC Regional Head South & South East Asia
Mohamed Iftikhar Alam
IT Focal Point
Muhammad Vheztaqwil
Admin. & Finance Officer Kafala
Nidia Viska
Resident Representative
Salah Jelassi
ICIEC Senior Country Manager
Shaiful Kamarul Bin M Sarip
Head of Administration
Supinah Yusup
Accountant
Vinera Aryani
Operations Team Leader
Yerzhan Jalmukhanov
Field Procurement Officer
Zulfi Novriandi