President Al Jasser: We Are Ready to Co-develop Mining Sector Opportunities
Riyadh, Kingdom of Saudi Arabia, 13 January 2022 - Under the patronage of The Custodian of the Two Holy Mosques, King Salman Bin Abdulaziz Al Saud, the capital city of Riyadh hosted the Future Minerals Summit 11-13 January 2022 at King Abdulaziz International Conference Center.
This major inter-continental Summit convened the global mining industry and those invested in its future to a conversation about the regions encompassing the Middle East, North and East Africa, and Central Asia, the potentials to attract investment and grow the sector in line with international sustainability standards. It aimed to enable future-looking discussions about mining on a global level and also provide an opportunity to explore the latest thinking and advancements in mining technology and equipment, to help build foundations for resilient mining ecosystems.  
Islamic Development Bank (IsDB) Group Chairman, H.E. Dr. Muhammad Al Jasser was amongst the keynote speakers during one of the main panel discussions of the summit on 13th January themed: Perspectives on Defining a Global Hub.
In his remarks, Dr. Al Jasser stated: "Partnerships with countries with mining competencies looking to expand their industries, could prove beneficial. Financing exploration activities, subsequent mineral discoveries could result in significant payouts for all parties involved", Dr. Al Jasser noted.
He further reiterated the need for more efficiently adapting to the new practices adding that IsDB is ready to work with governments to co-develop opportunities that are innovative and future-proof.  
He then explained how the IsDB Group, as a South-South cooperation institution, has evolved during the past 45 years as, now, it has 57 member countries (MCs) in four continents with total financing of about US$ 157 billion out of which US$ 24.4 billion have been allocated to the industry and mining sector. "Under the Public-Private Partnership (PPP) modality, to date, IsDB has provided US$ 500 million for financing mining sector projects (phosphate and iron ore) in several member countries including the Kingdom of Saudi Arabia, Tunisia, and Mauritania," Dr. Al Jasser stated.
He also elaborated that the total business insured by IsDB's insurance arm, ICIEC has reached about US$ 80 billion while its contribution to the minerals sector has exceeded US$ 3.9 billion.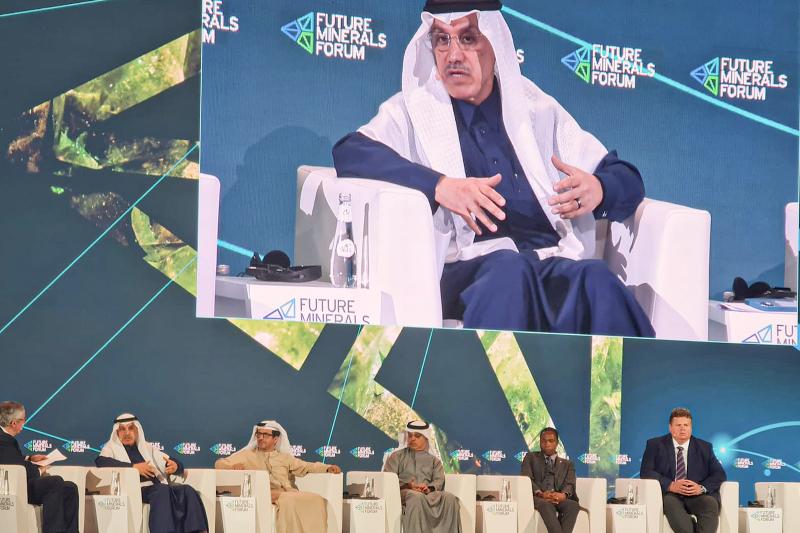 Asserting that IsDB member countries are generally recognized for their vast resources, Dr. Al Jasser underlined that the MCs need to explore resources and turn them into proven reserves appealing to investors to unlock their potentials.
Underlining the need to access untapped opportunities, Dr. Al Jasser elaborated that IsDB member countries pose significant potentials for downstream expansion across minerals like bauxite, nickel, or iron ore, but often lack the resources, know-how, or infrastructure enablers. "Countries could leverage IsDB's strengths across several industries to compensate for the initial knowledge barrier or the domestic absence of complementary resources," he stated.
He then elaborated that the mining sector represents a good overall baseline for the Bank's member countries in the world economy as they are currently handling 11 percent of the world mining production.
According to IsDB President, a wide array of challenges lay ahead of the mining sector in different countries tackling which would pace up economic growth amongst them; the infrastructure gap, the high demand for transitioning to alternative fuels, and the need for innovation-centric systems.
The Future Minerals Summit was the first government-led initiative that features a diversified international and organizational representation with more than 2,000 conference delegates and attendees from more than 95 countries from the Middle East, Central Asia, and North and Central Africa where speakers from around the world are offering their insights.